Welcome to the Wiki!
Welcome to the Taimadou Gakuen 35 Shiken Shoutai Wiki!
This wikia is based on Taimadou Gakuen 35 Shiken Shoutai and it's three adapted series; light novel, manga and soon-to-be anime that will be released in October 2015.
Everyone is welcome to edit on this wikia! Please aid us to improve and greatly expand AntiMagic Academy 35th Test Platoon! Help is greatly required for creating or editing any of articles that are already not made! There are currently editing over 113 articles and 286 images.
Note: There may be contained spoilers!

---
The school action fantasy is set in a world where people with magic powers are close to being wiped out. Just as the balance of power and military might had once shifted from swords to sorcery, it shifts once again to guns. Takeru Kusanagi goes to "AntiMagic Academy," a training facility for Inquisitors of Herectics who crack down on the dwindling threat posed by magic users.
However, Takeru cannot use guns at all and can only fight with a sword. As a result, he is relegated to the 35th Test Platoon, the motley "small fry platoon" for poor students. One day, Ouka Ootori, the ultra-elite pistol master who already has her qualifications for witch-hunts, joins the platoon.
Promotional Video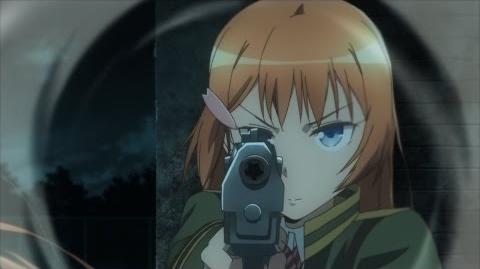 Latest News
Episode 8 of the anime, Taimadou Gakuen 35 Shiken Shoutai is coming out on November 25, 2015!
Poll
What's your perspective on the anime so far?
Poll Results
Before the anime came out, there was a poll to vote if you were excited to watch the anime adaptation. Here's the results!!
| Position | Options | Votes | Percent |
| --- | --- | --- | --- |
| 1 | Yes | 51 | 94.44% |
| 2 | Maybe | 3 | 5.56% |
| 3 | No | 0 | 0% |